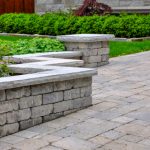 Hardscape features, such as patios, sidewalks, and retaining walls, play an essential role in the overall aesthetics and functionality of your outdoor spaces. These structures not only add value to your property but also create inviting areas for relaxation and entertainment. However, like any other element in your landscape, hardscapes require regular maintenance and care to ensure they remain in good condition. In this blog post, we will discuss some important tips for maintaining and caring for your hardscape features.
1. Regular Cleaning:
One of the primary steps in maintaining hardscape features is to keep them clean. Over time, dirt, debris, and stains can accumulate on the surface, detracting from their overall appearance. Regular cleaning will help prevent the buildup of mold, mildew, and other organic material that can cause damage. For most hardscapes, a simple sweep or rinse with a garden hose can remove loose debris. For tougher stains, consider using a pressure washer or specialized hardscape cleaner. However, make sure to choose a cleaner that is safe for the specific material of your hardscape features.
2. Weed Prevention:
Weeds can quickly grow between the pavers in your patio or sidewalk, compromising their stability and aesthetics. To prevent weed growth, consider applying a weed barrier or using polymeric sand during the installation process. These products help prevent weed seeds from taking root and minimize the effort required to remove them in the future. Regularly inspect your hardscapes for any signs of weed growth and promptly remove any sprouting weeds by hand or with a suitable herbicide.
3. Repairing Cracks and Damage:
Over time, hardscape features may develop cracks or other damage due to factors such as weathering, soil movement, or heavy use. It is crucial to address these issues promptly to prevent further deterioration and potential safety hazards. For minor cracks, you can use a suitable filler or patching compound to repair the damage. Deeper cracks or damage may require consulting a professional hardscape contractor who can assess the extent of the issue and provide appropriate repairs.
4. Winter Preparation:
In colder climates, winter can be particularly harsh on hardscapes. Freezing temperatures can cause the expansion and contraction of materials, leading to cracks or shifting of the structure. To prepare your hardscapes for winter, make sure to remove any excess water from the surface to prevent freezing. Additionally, apply a suitable sealer or protective coating to help prevent moisture penetration and protect against the damaging effects of ice and snow. It is also advisable to avoid using salt or other de-icing chemicals, as they can accelerate the deterioration of hardscape materials.
5. Proper Drainage:
Proper drainage is critical for maintaining the longevity of hardscape features. Standing water can damage the foundation of your hardscapes, leading to structural issues and potential water damage. When designing or installing hardscape features, ensure that proper grading and drainage are incorporated to redirect water away from the area. Regularly inspect your hardscapes after heavy rainfalls to identify any drainage issues and address them promptly.
6. Sealing and Re-sealing:
Sealing is an essential step in maintaining hardscape features like concrete, brick, or natural stone. Sealants help protect the surface from stains, moisture penetration, and fading caused by UV rays. Depending on the type of hardscape material and the level of wear, you may need to reseal your features every few years. Before resealing, thoroughly clean the surface to remove any dirt or stains. Apply the appropriate sealant according to the manufacturer's instructions, taking care to cover the entire surface evenly.
Summary
Maintaining and caring for hardscape features is crucial to ensure their longevity and visual appeal. Regular cleaning, weed prevention, repairing cracks, and preparing for winter are essential maintenance tasks. Proper drainage and sealing or resealing your hardscapes will further protect them from damage and extend their lifespan. By following these tips and incorporating regular maintenance into your routine, you can enjoy the beauty and functionality of your hardscape features for years to come.
Need a Hardscape Contractor in Raymore, MO?
Since 2004, MSE Hardscape Design and Installation has been the expert provider and installer of retaining walls for the city of Kansas City and its surrounding areas. We are dedicated to providing exceptional and professional services to our valued customers. Our specialty lies in the design, installation, and maintenance of retaining walls for both commercial and residential spaces. We offer many services to meet the needs of our customers, including the building and installation of segmented block and large-block retaining walls, interlocking pavers, fire pits, outdoor kitchens, and pizza ovens. Our goal is to create an oasis out of your backyard or commercial space! Call us today for a consultation!