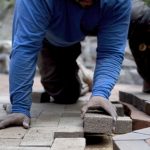 Hardscaping projects are a great way to enhance the functionality and aesthetic appeal of your outdoor space. From installing a new patio or walkway to building retaining walls or adding a fire pit, hardscaping can transform your backyard into a beautiful and functional oasis. However, before you embark on your hardscaping journey, it's essential to consider your budget and cost factors. In this blog post, we will explore some budgeting and cost considerations to help you plan and prioritize your hardscaping project effectively.
1. Define Your Project Goals:
Before setting a budget, it's important to define your project goals. Determine what you hope to achieve with your hardscaping project and how it aligns with your overall vision for your outdoor space. Are you looking to create a large patio for entertaining or a small walkway for convenience? Do you want to incorporate specific design elements, such as water features or outdoor lighting? By clearly defining your goals, you can allocate your budget more efficiently and ensure that your project meets your expectations.
2. Consider Material Costs:
The choice of materials for your hardscaping project will greatly influence its cost. Different materials, such as concrete, pavers, natural stone, or brick, come with varying price points. While natural stone may offer a luxurious and timeless look, it can be more expensive than other options. Concrete is generally more affordable and versatile, but customization options may increase the cost. Evaluate your preferences, research material costs, and consider the long-term durability and maintenance requirements when selecting materials for your project.
3. Factor in Labor Costs:
Hardscaping projects often require professional installation, especially for more complex elements like retaining walls or outdoor kitchens. Labor costs can vary based on the scope and scale of your project, as well as the experience and expertise of the contractors you hire. Request multiple quotes from reputable hardscape contractors, compare their pricing, and ensure that their estimates include all the necessary materials and labor. Keep in mind that choosing the cheapest option may not always be the best decision, as quality and craftsmanship are crucial for the longevity and aesthetics of your hardscaping.
4. Plan for Site Preparation:
Site preparation is an essential step in any hardscaping project and can impact your budget. Clearing out vegetation, leveling the ground, and addressing drainage issues may require additional labor, machinery, and materials. If your project involves excavation or demolition of existing structures, such as old concrete or decks, factor in the cost of disposal or recycling. Proper site preparation is crucial for the success and longevity of your hardscaping project, so budget accordingly for this essential step.
5. Consider Long-Term Maintenance:
When budgeting for your hardscaping project, it's important to consider the long-term maintenance costs. Some materials, like concrete, may require sealing and periodic repairs to maintain their appearance and durability. Natural stone may require occasional re-leveling or sealing. Additionally, consider the impact of your hardscaping choices on water usage, such as the installation of irrigation systems or the need for regular cleaning. Planning for long-term maintenance will help you set a realistic budget and ensure that your hardscaping remains in good condition for years to come.
Summary
Budgeting and cost considerations are essential for successful hardscaping projects. Defining your goals, carefully selecting materials, factoring in labor costs and site preparation, and planning for long-term maintenance will help you allocate your budget effectively. By considering these factors and seeking professional advice, you can create a beautiful and functional outdoor space that fits your vision and financial capabilities. Whether you're looking to transform your backyard into a cozy gathering area or design a breathtaking front entrance, careful budgeting will ensure that your hardscaping project is a rewarding investment.
Need a Hardscape Contractor in Raymore, MO?
Since 2004, MSE Hardscape Design and Installation has been the expert provider and installer of retaining walls for the city of Kansas City and its surrounding areas. We are dedicated to providing exceptional and professional services to our valued customers. Our specialty lies in the design, installation, and maintenance of retaining walls for both commercial and residential spaces. We offer many services to meet the needs of our customers, including the building and installation of segmented block and large-block retaining walls, interlocking pavers, fire pits, outdoor kitchens, and pizza ovens. Our goal is to create an oasis out of your backyard or commercial space! Call us today for a consultation!