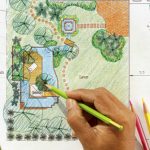 When it comes to creating a beautiful and functional outdoor space, finding the right balance between hardscape and softscape elements is crucial. Hardscape refers to the non-living features in your landscape design, such as patios, pathways, and retaining walls, while softscape includes the living elements like plants, flowers, and lawn areas. Both hardscape and softscape play essential roles in creating a harmonious and visually appealing outdoor environment. In this blog post, we will explore the differences between hardscape and softscape and discuss how to achieve a balanced landscape design.
1. Hardscape: Adding Structure and Functionality
Hardscape elements provide structure, functionality, and visual interest to your outdoor space. Features such as patios, decks, and walkways define the layout of your landscape and create spaces for various activities. Hardscape also includes retaining walls, fountains, fire pits, and outdoor kitchens, which enhance the functionality and aesthetics of your yard. These elements offer opportunities for seating, gathering, and entertaining, making your outdoor space an extension of your home. Incorporating hardscape into your landscape design adds durability, versatility, and architectural interest to your outdoor environment.
2. Softscape: Bringing Life and Beauty
Softscape elements, on the other hand, bring life, color, and beauty to your landscape. Plants, flowers, shrubs, and trees create texture, provide shade, and add visual appeal to your outdoor space. Softscape elements can be used to create focal points, frame views, and establish privacy. By selecting the right combination of plants, you can create a landscape that blooms with vibrant colors throughout the seasons and attracts birds, butterflies, and other wildlife. Softscape also includes lawn areas, which provide a soft and inviting space for relaxation, play, and recreation.
3. Achieving Balance: The Key to a Harmonious Design
Finding the right balance between hardscape and softscape is crucial for creating a harmonious landscape design. Too much hardscape can make your outdoor space feel stark and sterile, while an excess of softscape can create a wild and unkempt appearance. It is essential to achieve a balance that combines the functionality and structure of hardscape with the beauty and liveliness of softscape.
To find the right balance, start by considering the size and shape of your outdoor area. Larger spaces can accommodate more hardscape elements, such as multiple patios or a large deck, while smaller spaces may require a more modest approach. Additionally, think about the purpose of your outdoor space. Are you designing a cozy retreat for relaxation, a space for entertaining guests, or a play area for children? Understanding the intended use of the space will help you determine the right balance between hardscape and softscape elements.
4. Incorporating Hardscape and Softscape Seamlessly
To create a visually appealing landscape design, it is important to integrate hardscape and softscape seamlessly. Use hardscape elements, such as pathways or retaining walls, to guide the eye and create a sense of flow within your outdoor space. By strategically placing plantings around hardscape features, you can soften the edges and create a more inviting and natural look.
Consider using softscape elements to complement the materials and colors used in your hardscape. For example, if you have a stone patio, choose plants with soft, flowing foliage or colorful flowers that contrast with the rugged texture of the stone. This juxtaposition will create visual interest and a sense of balance.
5. Maintenance and Long-term Considerations
When planning your landscape design, it is important to consider the long-term maintenance requirements of both hardscape and softscape elements. Hardscape generally requires less maintenance and provides a durable and low-maintenance solution for your outdoor space. Softscape, on the other hand, requires regular care, including watering, pruning, and fertilizing. Be mindful of the time and effort you are willing to invest in maintaining your landscape and choose a balance that suits your lifestyle.
Conclusion:
Achieving a balanced landscape design that incorporates both hardscape and softscape elements is essential for creating an outdoor space that is beautiful, functional, and sustainable. Hardscape provides structure, functionality, and visual interest, while softscape brings life, beauty, and color. By finding the right balance between these two elements, you can create a harmonious landscape design that suits your style, meets your needs, and enhances the overall appeal of your outdoor space. So, whether you're planning a new landscape or renovating an existing one, remember to find the perfect equilibrium between hardscape and softscape.
Got Questions? Let Us Help!
Since 2004, MSE Hardscape Design and Installation has been the expert provider and installer of retaining walls for the city of Kansas City and its surrounding areas. We are dedicated to providing exceptional and professional services to our valued customers. Our specialty lies in the design, installation, and maintenance of retaining walls for both commercial and residential spaces. We offer many services to meet the needs of our customers, including the building and installation of segmented block and large-block retaining walls, interlocking pavers, fire pits, outdoor kitchens, and pizza ovens. Our goal is to create an oasis out of your backyard or commercial space! Call us today for a consultation!