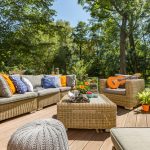 Having an outdoor space, whether it's a garden, patio, or balcony, is a wonderful addition to any home. It provides an escape from the confines of indoors and allows you to enjoy the beauty of nature. However, maintaining a tidy outdoor space can sometimes be challenging, especially when faced with changing seasons and weather conditions. In this blog post, we will discuss three effective ways to keep your outdoor space tidy year-round, so you can fully enjoy its beauty and functionality.
1. Regular Cleaning and Decluttering:
The first step to keeping your outdoor space tidy is to establish a routine for regular cleaning and decluttering. Depending on the size of your outdoor area, set aside some time each week or month to sweep away debris, remove fallen leaves, and clear any clutter that has accumulated.
Start by inspecting your outdoor space and identifying any items that are no longer needed or are in disrepair. Dispose of or donate these items, as they can create eyesores and take up valuable space. Additionally, consider investing in storage solutions, such as outdoor bins or deck boxes, to keep your belongings organized and protected from the elements.
2. Prune and Maintain Plants:
Plants are a significant part of any outdoor space, adding beauty and a touch of nature. However, without regular care and maintenance, they can quickly become overgrown and unkempt. To keep your outdoor space tidy year-round, it is essential to prioritize plant care, including pruning and maintaining your greenery.
Regularly inspect your plants for any dead or decaying leaves, branches, or flowers, and prune them accordingly. This not only improves the appearance of your plants but also helps promote healthy growth. Invest in quality gardening tools, such as shears or pruners, to make the process easier and more efficient.
In addition to pruning, ensure your plants receive adequate water, sunlight, and nutrients throughout the year. Adjust your watering schedule based on the changing seasons and weather conditions. Mulch can be used to retain moisture and control weed growth, while fertilizers can provide additional nutrients to support healthy plant growth.
3. Invest in Low-Maintenance Features:
If keeping up with regular maintenance and cleaning seems overwhelming, consider investing in low-maintenance features for your outdoor space. Opt for durable and easy-to-clean materials, such as composite decking or stone pavers, which require minimal upkeep compared to traditional wood decking or concrete.
Choose outdoor furniture and accessories that are weather-resistant and easy to clean. Look for materials like aluminum, teak, or polypropylene, which can withstand various weather conditions and can be easily wiped down or hosed off when needed. Additionally, consider installing a permanent outdoor storage solution, such as a shed or dedicated storage area, to keep your outdoor essentials organized and protected.
Conclusion:
A tidy and well-maintained outdoor space can significantly enhance your enjoyment of your home and provide a welcoming area to entertain guests or relax. By establishing a routine for regular cleaning and decluttering, pruning and maintaining your plants, and investing in low-maintenance features, you can ensure your outdoor space remains tidy year-round. Remember, a little effort and consistent maintenance go a long way in preserving the beauty and functionality of your outdoor oasis.
Got Questions? Let Us Help!
Since 2004, MSE Hardscape Design and Installation has been the expert provider and installer of retaining walls for the city of Kansas City and its surrounding areas. We are dedicated to providing exceptional and professional services to our valued customers. Our specialty lies in the design, installation, and maintenance of retaining walls for both commercial and residential spaces. We offer many services to meet the needs of our customers, including the building and installation of segmented block and large-block retaining walls, interlocking pavers, fire pits, outdoor kitchens, and pizza ovens. Our goal is to create an oasis out of your backyard or commercial space! Call us today for a consultation!