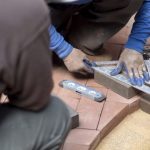 Hardscaping is an essential element of landscape design, adding structure, functionality, and aesthetic appeal to outdoor spaces. Whether it is a patio, walkway, retaining wall, or other hardscape feature, proper installation techniques are crucial for ensuring durability, longevity, and overall success of the project. In this blog post, we will discuss the importance of using proper hardscape installation techniques and how they can significantly impact the outcome of your landscaping project.
1. Structural Integrity and Stability:
One of the primary reasons for utilizing proper installation techniques is to ensure the structural integrity and stability of hardscape features. Hardscape elements like retaining walls, driveways, and outdoor structures need to withstand various weather conditions, heavy loads, and other external forces. Using appropriate techniques such as proper base preparation, adequate drainage, and appropriate material selection helps prevent shifting, cracking, and other forms of damage over time, ensuring the long-term stability and functionality of the hardscape feature.
2. Safety:
Proper hardscape installation techniques are essential for ensuring the safety of individuals using the outdoor space. Walkways and stairs, for instance, need to be installed at the correct pitch and slope to prevent slippery surfaces and tripping hazards. Retaining walls should be constructed with proper reinforcement and drainage systems to prevent collapse and potential injury. Following industry guidelines and employing expert techniques minimize the risk of accidents and liability issues.
3. Drainage and Water Management:
Effective management of water is crucial in hardscape installation. Improper drainage can lead to issues such as pooling water, soil erosion, and damage to the hardscape structure. Ensuring proper grading, installing appropriate drainage systems, and selecting permeable materials are all important aspects of allowing water to flow away from hardscape areas and into appropriate channels or drainage systems. Proper water management not only protects the hardscape itself but also helps maintain healthy soil and prevents water-related damage to nearby vegetation.
4. Enhanced Aesthetics:
While functionality and durability are key, the aesthetics of hardscape features are equally important. Proper installation techniques ensure a visually pleasing end result. Attention to detail in areas such as alignment, spacing, and joint patterns can elevate the overall look of the hardscape and complement the surrounding landscape. By following proper techniques, hardscape features are seamlessly integrated into the overall design, enhancing the visual appeal and creating a cohesive outdoor space.
5. Proper Material Usage:
Selecting the right materials for hardscape installation is essential, but equally important is using them correctly. Each material has its own unique qualities and installation requirements that contribute to its performance and longevity. For instance, pavers need to have the proper base, edge restraint, and jointing material to prevent shifting and maintain stability. Concrete should be mixed and poured according to industry guidelines to ensure strength and durability. Adhering to manufacturer instructions and industry best practices for material usage is critical in maximizing the lifespan and performance of hardscape features.
6. Avoiding Costly Repairs:
One of the major advantages of employing proper hardscape installation techniques is the prevention of costly repairs and reinstallation in the future. Fixing improperly installed hardscape features can be time-consuming, disruptive, and expensive. Investing in the expertise and knowledge of professionals who adhere to industry standards from the outset saves both time and money in the long run. By focusing on quality installation techniques, you can minimize the likelihood of repairs or replacements down the line, providing a sound investment in your outdoor space.
Conclusion:
Proper hardscape installation techniques are crucial for achieving long-lasting, functional, and visually appealing outdoor spaces. From structural integrity and safety to drainage management, aesthetic enhancement, and avoiding costly repairs, following industry guidelines and employing expert techniques is essential. Whether you are tackling a DIY hardscape project or hiring professional hardscape contractors, be sure to prioritize proper installation techniques to ensure the success and longevity of your hardscaping endeavors.
Got Questions? Let Us Help!
Since 2004, MSE Hardscape Design and Installation has been the expert provider and installer of retaining walls for the city of Kansas City and its surrounding areas. We are dedicated to providing exceptional and professional services to our valued customers. Our specialty lies in the design, installation, and maintenance of retaining walls for both commercial and residential spaces. We offer many services to meet the needs of our customers, including the building and installation of segmented block and large-block retaining walls, interlocking pavers, fire pits, outdoor kitchens, and pizza ovens. Our goal is to create an oasis out of your backyard or commercial space! Call us today for a consultation!