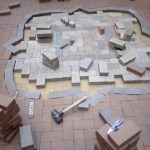 Hardscaping refers to the non-living elements in your outdoor space, such as patios, walkways, retaining walls, and driveways. When planning a hardscape project, selecting the right materials is crucial for the overall aesthetic appeal, durability, and maintenance requirements. In this blog post, we will explore different types of materials commonly used in hardscaping and provide tips on how to choose the right materials for your project.
1. Natural Stone:
Natural stone is a popular choice for hardscape projects due to its timeless beauty and durability. Options such as flagstone, limestone, slate, and granite can add a touch of elegance to any outdoor space. Natural stone is available in various textures, colors, and sizes, allowing for endless design possibilities.
When selecting natural stone, consider the style and aesthetic of your home and landscaping. For a more rustic look, flagstone or irregularly shaped stones can create a natural and organic feel. For a more formal or contemporary design, granite or limestone with clean lines and uniform shapes can provide a sleek and sophisticated look.
2. Concrete:
Concrete is a versatile and cost-effective material choice for hardscaping. It can be poured into any shape or size, allowing for customization and creativity in design. Concrete can be stamped, stained, or textured to resemble natural materials such as stone or wood.
When choosing concrete for your hardscape project, consider the finish and color options available. Stamped concrete can mimic the look of natural stone or brick, while stained concrete can add color and depth. It is also important to consider the climate and potential for freezing and thawing, as concrete may crack over time in harsh conditions.
3. Brick:
Brick is a classic and timeless choice for hardscape projects. It is known for its durability and ability to withstand heavy foot traffic. Brick pavers come in various shapes, sizes, and colors, allowing for versatility in design.
When selecting brick for your hardscape project, consider the architectural style of your home and the surrounding landscape. A traditional red brick can complement a colonial or cottage-style home, while a lighter-colored brick can add a modern touch to a contemporary design.
4. Pavers:
Pavers are a popular choice for hardscape projects due to their durability and ease of installation. They come in various materials such as concrete, clay, and natural stone. Pavers allow for flexibility in design, as they can be arranged in different patterns and sizes.
When choosing pavers, consider both the aesthetic appeal and their practicality. Look for pavers that are slip-resistant and can withstand weather conditions in your area. Additionally, consider the maintenance requirements, as different materials may require regular sealing or cleaning.
5. Wood:
Wood is often used in hardscaping projects to create features such as decks, pergolas, and fences. It adds warmth and natural beauty to outdoor spaces. Common wood options include cedar, redwood, and pressure-treated lumber.
When choosing wood for your hardscaping project, consider the level of maintenance required. Some woods, such as cedar and redwood, are naturally resistant to rot and insects and require less maintenance. Pressure-treated lumber is affordable but may require regular staining or sealing.
Conclusion:
Choosing the right materials for hardscape projects is essential to achieve a cohesive and visually appealing outdoor space. Natural stone, concrete, brick, pavers, and wood all offer different benefits and aesthetic options. Consider the overall design style, durability, maintenance requirements, and climate conditions when making your material selections.
Consult with a professional hardscape contractor or designer for expert advice and guidance. They can help you select the materials that best suit your specific needs, ensuring that your hardscape project not only looks beautiful but also stands the test of time.
Got Questions? Let Us Help!
Since 2004, MSE Hardscape Design and Installation has been the expert provider and installer of retaining walls for the city of Kansas City and its surrounding areas. We are dedicated to providing exceptional and professional services to our valued customers. Our specialty lies in the design, installation, and maintenance of retaining walls for both commercial and residential spaces. We offer many services to meet the needs of our customers, including the building and installation of segmented block and large-block retaining walls, interlocking pavers, fire pits, outdoor kitchens, and pizza ovens. Our goal is to create an oasis out of your backyard or commercial space! Call us today for a consultation!